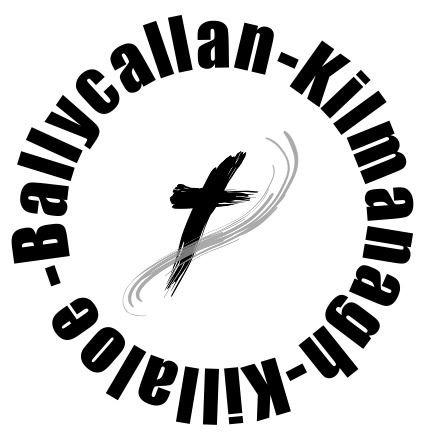 14th Sunday in Ordinary Time, Year A (II). 5th July 2020
We Pray For Our Deceased Loved OnesRecently Deceased:
Paddy Fitzpatrick, Manchester & Knockeenbawn. Funeral arrangements later.
Anniversaries Occurring At This Time
Jack Murphy, Knockeenbawn
Rose & John Purcell, Ballyfrunk
A Joyful Return
Welcome back to our somewhat normal schedule of Masses for the weekend.
The 6.30pm Saturday Vigil returns to Kilmanagh.
The 9am Sunday Mass returns to Killaloe.
The 10:15am Mass returns to Ballycallan.
With social distancing measures in place, both Kilmanagh and Killaloe have a capacity of 50. Any more than that and people will be asked to remain outside. Where Mass will be relayed via loudspeaker and communion distributed.
Ballycallan church
Stewards will be in place at the entrance to each door. Please follow their instruction to sanitise and numbers per seat.
Also, please note the following:
Anniversaries can only take place if it remains local and only immediate family attend.
Servers are stood down for the time being due to social distancing issues.
Choirs can only have one musician and 2 singers due to social distancing.
PLEASE TAKE THE DOUBLE SHEET AT THE BACK OF THE CHURCH GIVING FULL GUIDELINES. OR READ IT ON OUR WEBSITE.Booking Anniversaries
For the foreseeable future, with restrictions on our numbers attending Mass, anniversary Masses could see us reach our capacity too early. This in turn could mean regulars attending Mass might have to stand outside through not getting a seat.
For this reason, if you are booking an anniversary Mass, I will be asking you not to publicise it, or invite people from outside the parish to attend. Just limit the Mass to immediate family. Do also consider a weekday Mass for an anniversary if you wish to bring more.
Volunteer Cleaners
We require volunteers who will help clean the churches after each Mass. If interested, let me know. You must be under 70.
Weekday Masses
Our weekday Masses are changing a slight bit:
Monday, 7pm in Killaloe
Tuesday, 7pm in Kilmanagh
Thursday, 7pm in Ballycallan
Friday, 10am in Kilmanagh.
Patterns Suspended
The Patterns that would normally be remembered at Dowrath Mass Rock, Kilmanagh Pattern, Killaloe Pattern and St. Michael's will not take place this year.
Baptisms
Baptisms are on Saturday's at either 12noon, 2pm or 4pm. On Sunday's, baptisms are directly after the 10.15am Mass and in Ballycallan only.
Support Line For Older People
ALONE has launched a national support line in relation to the outbreak of Covid-19. The line is open, Monday to Friday, 8am to 8pm. Call 0818 222 024
Couples & Relationship Support Line
If you need to speak to an experienced Couples & Relationship Counsellor during this time of unprecedented stress and pressure on family on family life, Contact 01 531 3331. 9am to 8pm, Monday to Friday. Calls charged at local rate.
Parish Envelopes
You can make your contribution during Mass in one of the dedicated offertory boxes in each church. If you're not attending weekend Mass, you can still contribute by dropping your donation in my letterbox in Kilmanagh. The door is wiped clean everyday. Sincere thanks to all who continue to support us in these difficult times.
Donate Online
You can now donate to the parish online using PayPal. Just click on the link at the bottom of our webpage at
www.ballycallan.com
Some personal detail is required but this is stored securely and using PayPal mean you don't have to give out card details.
Facebook Locked
Due to login issues and Facebooks requirement to use my personal name to register the parish account (I already have a personal account), the Parish Facebook account will no longer be updated. Apologies for the inconvenience.